Gustav Wallner born July 20, 1976 in Sweden.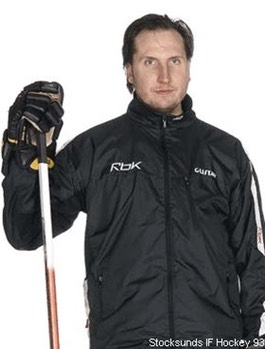 Clubs that Gustav has played for:
1995-1996    AIK J20, Stockholm, SWEDEN.
1996-1997    Summerside Western Capitals, Nova Scotia, CANADA.
1997-2000    Gustav Adolphus College, St. Peter, Minnesota, USA.
2000              New Orleans Brass, New Orleans, Louisiana, USA.
2005-2006    Arlanda Wings, Lidingö Vikings, Stockholm, SWEDEN.
Education:
1997-2000    B.S in Communication studies and Health fitness.
2002-2003   Certified coach by USA hockey level III 
2008-2009   Certified trainer in Neurolinguistic programing (NLP), Hypnosis, and timeline thearapy (TLT) 
2014             Certified JS 1, JS 2, Strenght and conditioning 1 and 2 through the Swedish National Hockey Federation
Working experience:
2001-2003  Head trainer Acceleration Alaska
3003-2005  Skills coach Alska Allstars U16 and Bantam
2004            Working with Sean Skinner Stick with and Edge.
2003-2005  Personal hockey training for NHL players and college players 
2004-2005  Working with Laura Stamm as a power skating instructor
2006-2012  Hockey Camp Sweden, working with professional players.
2006-2009  Head coach, Stocksunds IF U16, SDE U16, Assistant coach SDE J18 Eli
                    Head coach Stocksunds IF team 98
2007-2009  WNC Hockey camps with Fredrik Nygren
2009-2012   Lidingö Vikings HC, director with Per Wiren and  head coach for team 97, 98, 99, and J18 Elite 
2011-2012  Co founder of Hockey Skills International with Ansis Straupe
2012- 2013  Skills director for Täby HC, co coach Täby HC team 99, Assistant coach Täby HC U18
2012             Assistant coach Stockholm TV Puck team (south)
2013-2014  Skills director Täby HC, Head Coach Täby U14 team 00 
2013-2019  Director and manager for Hockey Camp Sweden
2014-2019  Director and head of ice hockey for Profilskolan (6th-9th grade)
2014-2015 Head Coach U18 Spånga Hockey Junior team
2014-2017 General manager and director of development for Spång Hockey Club
2015-2019 Owner of Swedish hockey training AB
2016           Co Founder of Starzone Sports AB www.starzonesports.com
2018           Co Founder of 360 hockey skills www.360hockeyskills.se
2017           Instructor at Swedish national development camp 
2018           Instructor at Swedish national development camp
2018           Co Founder and owner of 360 Performance center in Märsta, Sweden
2017-2019 Hockey Cunsultant and skills coach working with different clubs
Clubs that Gustav has worked with:
Alaska Allstars
Stocksunds IF
DE Hockey club
SDE Hockey club
Lidingö Vikings
Nacka HC
Täby HC
Spånga IS
AIK Hockey
Arlanda Wings
SK Iron
Göta Traneberg
IK Waxholm
Titles won:  
2003             Alaska Allstars Bantam U16 AAA STATE CHAMPIONS 
2007             Mitti Cup champions with U16 Stocksunds IF team 91
2008             District champions with U16 SDE 
2014             Stockholms Cup (ex Mitti Cup) champions with Täby HC U14 team 00